Radio Control
Radio Control has been widely use by hobbyists to control vehicles. Nowadays, even using highly complex autopilot in drones and a lot of different hardware, the use of RC is still a must, for security reasons.
You can make autonomous flights but is a lot of fun to control yourself the drone! Apart from controlling the drone, a RC enables to do more thins, like:
Selecting drone flight modes.
Moving camera gimbal to a desired position.
Triggering different hardware, like an EPM
Right now, in our store we have available FS-TH9X RCs.
This are some specifications of the RC:
Channels: 8 *Model type: glider/heli/airlane
RF range: 2.40-2.48GHz
Bandwidth: 500KHz
Band: 160
RF power: less than 20 dBm
2.4G system: AFHDS
Code type: GFSK
Sensitivity: 1024
Low voltage warning: yes(less than 9V)
DSC port: yes(3.5mm; output: PPM)
Charger port: yes
Power: 12V DC(1.5AA*8)
Weight: 690g
This are the different control/switches installed in the RC: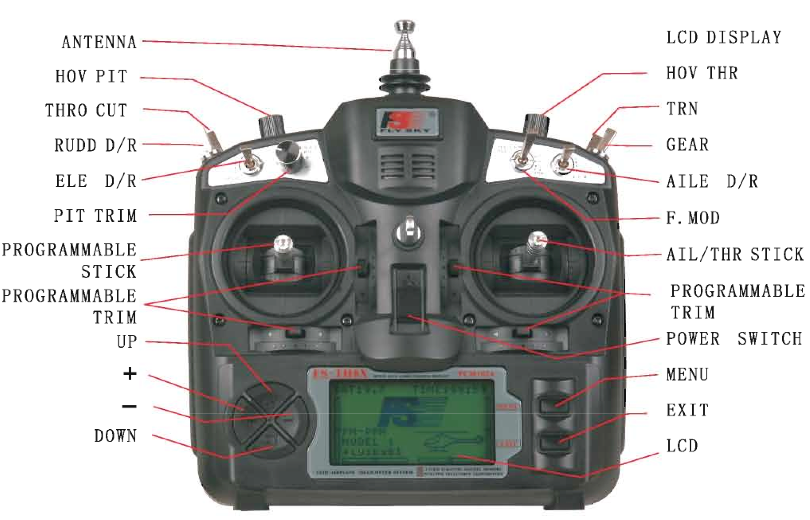 Setting GEAR switch for flight modes
GEAR switch can be easily configurated to have two flight modes in the RC. If you would like to change to modes not included in your RC, use a GCS.
Here you can find a tutorial about how to configure the TH9x GEAR switch and the drone properly, in order to have this two modes mentioned above.
Setting 3-way switch for flight modes
Check this video to make a 3-way switch the flight mode selector. Notice that you will need and 8 channel output receiver and a 8 to 1 channel PPM sum.
Setting Simple flight mode
Check this page in order to configure the RC and the drone to use this mode.